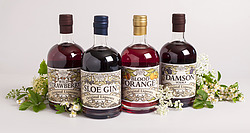 We have been creating exciting and original liqueurs since 1993. Developed to deliver a sophisticated taste which allows the fruit to be the shining star. Versatile and drinkable at every occassion.
Choose from our traditional sloe gin, delightfully fruity damson vodka, deliciously different blood orange liqueur or our strikingly red, wild strawberry liqueur. All our original liqueurs are delicious served neat or poured over ice, or mix them up as the basis for exciting cocktails. Mix sloe gin with champagne for a decadent Sloepagne cocktail, pour damson vodka over ice and top with gingerale for a refreshing Damson in Distress or for an impressive and easy pudding, slosh wild strawberry liqueur over fresh berries topped with ice-cream.
Our beautifully hand designed labels sum up our Original Liqueurs, traditionally English yet with an original twist. Our inspiration came from quintessentially English designer William Morris and the vibrant Czech art nouveau painter, Alphonse Mucha. These charming labels can now be personalised to include your own text making them ideal for shooting parties, wedding celebrations or a stunning and original gift.
Winner of Theo Paphitis SBS award 2014.