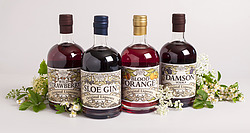 Welcome to the Wiltshire Liqueur Company. Working from our home in the rolling Wiltshire countryside we have been putting the fun and personality into liqueurs since 2012.
By using only the finest of ingredients including blood oranges from the sun soaked slopes Sicily and refined spirits, we can ensure that the fruits are the shining starts in all our liqueurs.
Tiffinie, director and chief mixologist is passionate about finding different and unusual ways of using the range of truly fruity liqueurs. A tot of Sloe Gin on a winter's day is guaranteed to warm and perk you up but when added to a glass of bubbles it instantly puts the fizz into a summer's day. Strawberries and cream maybe a summer institution but splash some of our Wild Strawberry Liqueur over a bowl of whipped cream and you have instantly created summer with a kick whatever the season.
Our labels are as beautiful as our liqueurs and by drawing on inspiration from William Morris and Alphonse Mucha we have created a hand-designed label that is quintessentially British with an original twist – just like our liqueurs.
These much-admired labels can be personalised with your own message for no additional charge making them a welcome gift whatever the occasion.