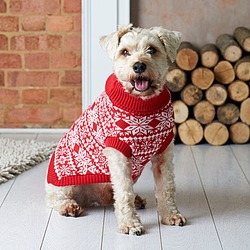 Welcome to the colourful and patterned world of Willieratbag.
Dreamed from the creative mind of Willie aka Hilary, who since graduating with a Fashion Knitwear degree from Nottingham Trent University in 2003 spent time in New York where she was inspired to create high fashion quality pet apparel.
Now living back home in East Devon Hilary and her little collection of vintage knitting machines has created her very own "cottage" industry where her love of patterns has allowed her to create unique and on trend designs that have fast become instantly recognisable.
Hilary prides herself on understanding her customers from sourcing the best yarns from lambswool, wool and acrylic blends to ensure every jumper provides comfort and durability. She has also gained great experience in measuring and sizing ensuring your dog receives the best service they deserve.
She also welcomes any requests hence designing the first ever bacon patterned dog jumper! So come on in and feast your eyes on Willie's wonderful world of woollies.