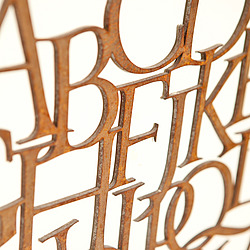 Wild Ink is the creation of Lucia Leyfield. After training as a typographer, and decided that she wasn't one, Lucia decided to satisfy her crafty urges and develop her skills as a calligrapher and hand lettering artist.
Lucia has always found inspiration in the beauty of hand lettered and vintage signs which has inspired her entire product range. By combining her own hand lettering with industrial production techniques, she has created a range of personalised typographic wall art and signage made from british steel. Every piece of work is made to order and personalised with your details to make each one unique. One of her signs is featured regularly on BBC's Springwatch.
If you are inspired by any of our products but want something bespoke, please do contact us via the 'ask seller a question' tab on each product page.
Customer comments:
"Wonderful service from Lucia and the alphabet letters are beautiful! Can't recommend them enough especially as Lucia set up a product just for me to ensure that she could post to Malta.... 110% service - so rare these days!'
'Beautifully hand-written envelope (which is definitely being kept!), not to mention the gorgeous card inside! All in all the service and product felt really special and it got just the reaction I was after from my boyfriend when he opened it :-)'
'Elegant and makes a lovely keepsake',
'So beautiful. Very stylish. I want to keep it for myself!'
In her spare time, Lucia loves origami and makes pretty decorations out of her old calligraphy practice sheets and bits of vintage books (Mills and Boon are a favourite!). Origami decorations and other creations of papery wonderfulness are added to the Wild Ink product range around christmas time.
Wild Ink takes great pride in the high quality design and production of all of its work. You are in safe hands!