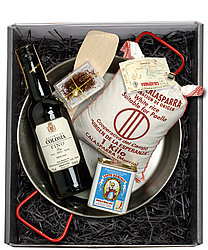 The humble hamper has had a makeover...
Whisk Hampers brings you a selection of the finest ingredients to create personal, modern gifts for and from the food savvy individual. Good food is our passion and we never tire of searching for mouth-watering, beautifully packaged gems from small, artisan producers. Carefully combining them in exquisite combinations such as 'The Bellini Box' or 'The Perfect Paella Kit', these make perfect food hamper gifts for family and friends.
Food is a thoughtful, emotive gift and to give your gift the absolute personal touch, we'll handwrite your message on a special 'whisk' gift tag for the recipient.
All our gifts are carefully packaged and beautifully presented on striking black shred. As a finishing touch, each selection includes a postcard containing a quotation based on the contents of your hamper.
Paul Medhurst launched Whisk Hampers in July 2006. With over 15 years experience in the restaurant and fine-food business, Paul felt that the hamper market had failed to keep pace with the public's insatiable appetite for good food and stylish presentation and ever endeavours to satisfy the nations appetite.