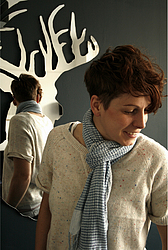 Westergaard designs comprises a unique collection of furniture and products lovingly created by young designer Polly Westergaard. The designs are heavily influenced by Polly's heritage, both her Danish ancestry and her British roots. This fusion of cultural perspectives results in chic, elegant, innovative pieces, designed for longevity whilst retaining a fresh take on modern living.
Polly also explores elements of past trends in her work. She updates traditional designs for contemporary living, drawing on the influence of history and examining the ways in which these designs can be re-invented to function in today's interiors. Polly is also influenced heavily by the natural world, and her animal-inspired products retain the trademark Westergaard Designs function and form whilst demonstrating Polly's quirky and playful side.
Polly is based in the North East of England. All of her products are produced in the UK, as close to her home in the North East as possible.