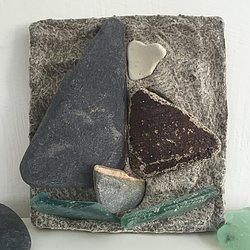 '
My background is ceramics and design; the mosaics began as simple expressions of my fondness for gathering and wishing to adorn my garden.
Each piece holds the charm of introducing a small shard of something that has come from a real past. They are individually handmade each different in some way.
The tactile quality of the decorative elements have a timeless sculptural quality that perfectly reflects the interiors of today, homes that comfort us and resonate with memories and appeal to our senses. The apparent simplicity of the design of each mosaic compliments contemporary settings where natural materials and neutral tones are present, whilst retaining links with artefacts from the past.
Since then the work has diversified from large corporate commissions, architectural projects, awards at Chelsea Flower Show and working with individuals to create their own interior landscapes.