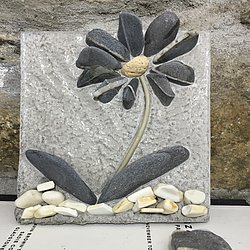 Works On Concrete is home to the unique mosaics of Wendy Wilbraham, whose work reflects a life in Cornwall. Her RHS Award-winning tiles feature sea-washed pottery,glass and pebble fragments inset in cement tiles, arranged in the shapes of flowers, boats and geometric designs. Each work is individual, with the rawness and immediacy of the concrete complemented by the soft, domestic quality of the mosaic materials, which in turn convey a beguiling sense of mystery about their origins.
Wendy lives by the coast, and is inspired by the ever-present greys, distant seascapes, indigenous architecture and fragments of curiosity to be found along the tide lines. She is a graduate of Camberwell School of Arts and Crafts and holds an MA in Contemporary Designer Maker Ceramics, but integral to her practice is making. Her mosaic work began after a research trip to Mexico inspired her to start creating tiles for her own garden. These were quickly picked up by several galleries in the southwest and an editor at Country Homes and Interiors. From making a few personal pieces for friends, Wendy was quickly creating for magazine editorials, commercial spaces (including a commission from the Wallis Fashion Group to provide the backdrop interiors for the launch of a spring/summer fashion collection ), commissions and larger projects followed including an award-winning garden at the RHS Chelsea Flower Show.
Enjoy this selection of unique works, or take the opportunity to commission a custom piece: Wendy particularly welcomes working with individual customers to ensure a lasting, fond relationship with a bespoke creation.