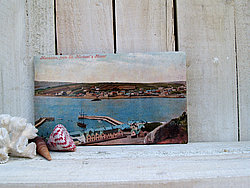 All of our tiles are designed and made in our small workshop in Cornwall, using traditional techniques that have been in use in the pottery industry for more than a century.
This small-scale, batch production gives the tiles a truly unique quality which could never be replicated in mass-production. We have a small team of people who have a genuine affinity with clay, and have a real passion for creating beautiful tiles.
Our tiles can only be made to our extremely high standards using a very labour-intensive process, and only the best English materials from suppliers who too take great pride in their products. This gives our tiles a quality which is unquestionably second-to-none, only imitable, not replicable in mass-production.
'A real passion for creating beautiful tiles.'