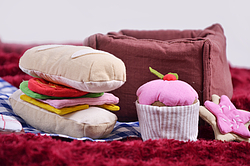 Weaving Hope provides gifts for children that are beautiful, unusual, bright and fun.
We have always tried to avoid the ubiquitous indestructible plastic for our children. It has never been easy and we were delighted when, on a family adventure in Asia, our founder came across toys that were the winning combination of gorgeous, hand woven and Fair Trade. So impressed were we that we found ourselves visiting the factory, and felt compelled to share our find.
The producers of all of our toys and gifts are registered with the World Fair Trade Organisation and operate very high standards of welfare for their staff and support for their communities. Weaving Hope does not use airfreight and all of our packaging is recycled or recyclable.