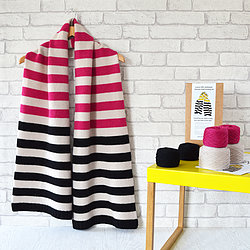 We design exciting modern toys, scarfs, slippers and most things that can be knitted or crocheted! We also design crochet and knitting kits all using luxury yarns from our converted barn sutio on a farm in Buckinghamshire.
The owner and designer, Victoria, trained as a professional knitwear designer at the Royal College of Art before going on to design for international fashion labels as well as some of the UK's high street giants.
Having left the fashion industry to focus on her young family, her love of knitting and crochet remained and Warm Pixie was set up to offer other people with a love of knitting and crochet some of the tricks of the industry and bring them some of the amazing yarns and great modern design that is available to professionals but not easily available on the high street to home knitters. We have now expanded to offer ready made toys and scarfs using luxury yarns and all made by hand in our studio.
Warm Pixie has gone from strength to strength and Victoria and her kits, toys and scarfs are regularly featured in magazines.