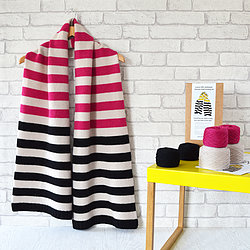 We design exciting, modern knitting and crochet patterns, kits and yarn using only the very best materials from our studio in Buckinghamshire and we ship everything with free standard delivery.
The owner and designer, Victoria, trained as a professional knitwear designer at the Royal College of Art before going on to design for international fashion labels as well as some of the UK's high street giants.
Having left the fashion industry to focus on her young family, her love of knitting and crochet remained and Warm Pixie was set up to offer other people with a love of knitting and crochet some of the tricks of the industry and bring them some of the amazing yarns and great modern design that is available to professionals but not easily available on the high street to home knitters.
The yarn we love most here at Warm Pixie is our lambswool, we have sourced the very best available. Using her contacts in the fashion industry, Victoria has sourced a yarn from a Spinner based in the Yorkshire Pennines with a history dating back to 1766. The luxurious yarns they produce are sold around the world and count Prada, Chanel, Burberry and Ralph Lauren as some of its prestigious customers.
Warm Pixie has gone from strength to strength and Victoria and her kits are regularly featured in knitting and crochet magazines.