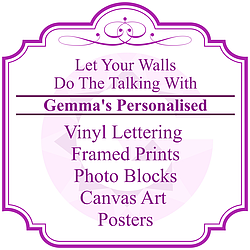 Hello and welcome to Wall Art Quotes & Designs by Gemma Duffy.
Gemma produces beautiful and unique wall art stickers, canvas gallery wraps, posters and diamond polished photo blocks. Gemma also offers a FREE personalisation service, which is ideal for your home, office or workplace. They are all designed and produced in her home town of St Helens, near Liverpool.
Gemma uses only the best quality vinyl and precision cutting is always carried out with care. These three factors help towards the wall art looking professionally hand painted. The best of the best photographs would not give Gemma's work justice. They are easy to apply and remove.
The Canvas Gallery Wraps are printed on 100% cotton and there is no cutting corners when it comes to printing. Gemma uses only the best of the best inks, being that of the outstanding and latest 12 -ink Lucia pigment inks from Canon.
The Acrylic Diamond Polished Blocks are freestanding, gorgeous, trendy and dazzling for 2015 and beyond. They are designed for photos, names, quotes and are also very impressive for presentation awards. They would look luxurious on a shelf, desk, windowsill, mantelpiece or display case/cabinet.