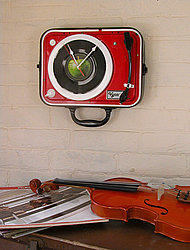 Since childhood, I have been intrigued with investigating how mechanical objects work, dismantling things and putting them back together. This combined with a passion for drawing and creating art and gifts meant that I began to experiment with incorporating everyday objects into my art.
The care that went into creating many of the items that I have rescued (record players, radiograms, even the vinyl records themselves) seemed particularly poignant to me, given the increasingly 'virtual' manner in which music is consumed these days. These pieces evoke a nostalgia for the days when your music was a much more visible and tangible part of your life, sitting in the corner of your bedroom or living room, your music collection visible to all.
Vyconic is constantly evolving and new and exciting designs are continuosuly emerging from the studio which encorporate a wide range of themes and interests. Reimaginging and reinventing uses for bike parts and anything bike related has become an integral part of the business and one which we embrace.
The ethos of Vyconic is largely about upcycling and re-imagining retro items and themes and I welcome your input. I can create pieces to a commission if you have a particular colour scheme in mind, or discuss any requests to transform specific items.