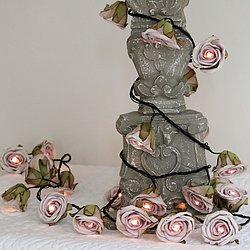 Welcome to Victoria Jill where you will find a new range of delicately hand-carved French wooden lamps, hand-stitched quilts and decorative home accessories including the exquisite rose garland fairy lights. Many of the products have been sourced from France and others were designed in Jill's North London studio.
Jill's story began in Paris where she went on holiday for a week and ended up staying for 15 years! Whilst living there, and inspired by her love of French style, Jill designed and launched a range of decorative home accessories that were soon stocked in Harrods, Fortnum & Mason and stores from Paris to Tokyo.
Jill also discovered many talented designers and craftsmen, many of whose designs were featured in the London boutique that was opened in 2002 on her return to London.
This is the beginning of Victoria Jill's new collection and there are many more beautiful hand-made products for the home to come, so keep looking in! Our new range of lamps is exclusive to Not on The High Street. We hope you like them!