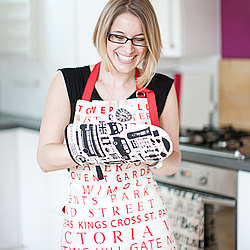 Hello, Victoria Eggs is a design company that proudly salutes all that makes Britain British with our Blighty inspired designs. We're all about premium quality homeware and gifts, each and every one handmade in our green and pleasant land.
'Ello ello, what's going on 'ere then?
We're all for painting the town (and your walls) red with the thrills of city life, splashing seaside memories about in your washing up bowl and bringing some nostalgic chic to your contemporary home with a tug of an apron string or a hearty cushion cuddle.
We cleverly mix vintage typography with touches of a time gone by, not before adding bold, contemporary designs to bake up some fun. The result is playful and bold prints that look as good on our tea towels as our aprons, bags, oven mitts, mugs, wallpaper and cushions.
Born & Bred
Britishness is not just what we do but who we are. We're a principled crowd who choose only ever to manufacture in the UK to support British jobs and local economies. You tell us you're happy to buy British and we're proud to keep it that way. Knowing where our products originate, what materials they are made of, who has given them their finishing touches and seal of approval means that each and every one of our items carries a personal story.
You tell us you care as much as we do, so thank you for being part of our journey.
Victoria Eggs was awarded 'Gift of the Year 2012' and was shortlisted for 'Gift of the Year 2013' and the 'Heart Home Design Awards'.