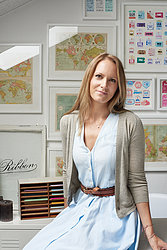 In 2008, two sisters with a mutual love of all things pretty, vintage and unique created the beautiful company that is 'Velvet Ribbon'. Originally starting out with a focus on sourcing vintage items that needed a little TLC, the Gurmin sisters used their craft and design skills to revive timeless quilts, glass and homeware. The eldest sister, Emma, has a degree in interior design and thus uses her keen eye to search for these unique items. Younger sister, Louise, joined forces with her sister a few years later, bringing her knowledge of fashion and print design with her. Injecting the company with her talent for marrying the traditional with the new, her designs are creative, chic and elegant.
Taking their mutual love of beautiful prints and calligraphy, Velvet Ribbon have created wonderful, personalised keepsakes that leave their customers thrilled with the artistry and excellence in each design.
Personalised products mean that each creation is unique and meaningful to every recipient. From luggage label tags and birthday travel tickets to re-imagined vintage doll houses, you will want to furnish your entire room, flat or house with Velvet Ribbon products and lavish your friends and family with gifts created by this delightful family-run business.
Today, the sisters continue to create all of their homemade and carefully sourced materials from their studio in North London. Their excellent, friendly customer service is of paramount importance to the girls. The sisters truly love their creations and they hope you will find something you adore just as much.