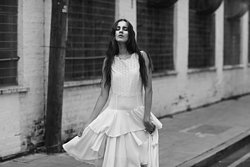 Valour & Valkyrie this season SS16/AW16 takes inspiration from nature and wandering the world, rediscovering our surroundings...
We embrace a playful passion for flora and fauna, set against a backdrop of gorgeous shimmering sequins. We delight in intricate detailing, draping and folding set against luxurious sporty simple lines giving you a youthful, luxurious, relaxed yet confident sillouette which permeats the entire collection.
The colour palette is one of contrasts, dark meets light with ethereal tones of ivory, grey, navy and always a shot of colour. Our fascination with dark prints combines to give you a layered contrasting silhouette.
Our Brand name epitomises who we are, 'Valour' signifies strength and honour and 'Valkyrie' the Nordic goddess of mythology, who was the Saviour of souls of the brave.
Over 40% of our collections are printed and made in the UK. We use the latest digital printing techiniques to bring you British prints, lovingly designed, poured over and carefully made in the UK with a Scandanavian nuance. Each printed piece is one of only 50 ever made, therefore simply exclusive and beautifully unique.
Valour & Valkyrie' s success is the art of recreating the story , the telling of it, the magic it evokes. Valour & Valkyrie is inspired by a Legend , Fairytale or Folklore and the journey between ficton, fairytale and our design sensibility combines to inspire each look. Designed to fit effortlessly into every womans wardrobe, a piece to treasure or a piece to transform, either way one that women can fall in love with...
Make this collection your story and your fairytale...
Step into the blissful world of Valour & Valkyrie: be enlightened, be uplifted, be inspired by leading, independent British design and style.