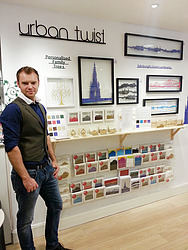 Urban Twist creates stunning products which combine contemporary design with quality materials whilst delivering great value to the customer. Our specialisation is in personalised gifts, wedding stationery, jewellery and papaercut landmark artwork. We aim to provide functional products that are also modern pieces of art.
All of our products are designed by us and manufactured in our Edinburgh studio. The majority of our designs are laser cut, using our own state of the art laser cutting machines. We are able to tailor products to the customer's requirements and put them straight into manufacture without working through third parties. This reduces lead times and ensures a high level of quality in all of our products.
If you have any ideas or special requirements, then please feel free to contact us, we're a friendly bunch!