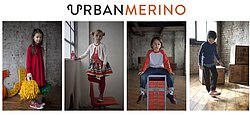 Urban Merino is a contemporary fashion clothing label for children ages 0-10 years, made exclusively from Supersoft merino wool.
Merino wool is a luxurious 'super' fabric. It is considerably more expensive than ordinary wools, synthetics and cotton. This is because it has the amazing attributes of wool, yet is lightweight, machine washable and comfortable like cotton. This makes it suitable for all weather conditions - perfect for spring chills, summer evenings, autumn breezes and winter layering.
Wool fibers create a microclimate around your childs' body absorbing and releasing moisture (a phenomenon known as wicking) and trapping or circulating air to regulate the body's temperature. It contains lanolin which naturally gives it anti-odor, antibacterial and non-allergenic properties. it is fire-retardant - by far the safest fabric you can dress your child in.
Merino wool is superior to ordinary wool because merino sheep live high up in the mountains and their wool has evolved for much greater extremes in temperature, making it ideal for kids who are going from indoors to outdoors (hot to cold). It is also much finer than ordinary wool, which is why it dose not itch and is soft against even the most sensitive skin. It is machine washable and fast drying, recyclable, biodegradable.
The collection incorporates timeless designs and subtle detailing, using a bright palette of colours with contrasting neutrals that look fantastic paired with other everyday fabrics, especially denim and cord.
You won't want your kids wearing anything else!