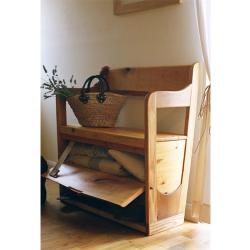 Welcome to Under the Oak Tree a place where the beauty and character of wood inspires the creation of unique furniture naturally designed for life. Each piece is entirely unique and has been lovingly handmade in Bath, England by Furniture Designer & Maker Miles Chambers. His designs are created employing traditional wood skills and tools to create contemporary, top quality pieces made of reused, recycled, and reclaimed timbers.
Under the Oak Tree was first conceived whilst sitting under an ancient oak tree. He was marvelled by the abundance of life under the majestic tree and moved by the thought that such a mighty being had grown from what was once a humble acorn. Feeling inspired Miles went against the grain and began using his traditional wood crafting skills to create beautiful furniture. Keeping traditional wood skills alive and creating work of the highest quality, craftsmanship and design form part of his life purpose. Out of respect for our trees and the environment Miles only uses wood from certified sustainable sources or wood that has been salvaged from previous uses. Under the Oak Tree also actively supports the replanting and wise management of forests. Every piece created at Under the Oak Tree is truly unique and therefore cannot be found on any high street. Wood is a natural material so variations in tone, colour, texture and look can be expected. If you would like your hand crafted piece to go with existing furniture please do let Miles know so that he can do his best to achieve a similar tone for you. The photographs shown here are for demonstration purposes only and some differences to the look or design of a piece can be expected as every piece is hand crafted and therefore no two pieces are the same. This is the magical nature of reclaimed and rustic materials which create a truly 'one off' piece full of life and character of its own.
If you have any comments or suggestions Miles would love to hear from you.
We also offer a bespoke service. Miles will design and make your perfect piece especially for you. If you are interested please do not hesitate to contact us for an informal discussion regarding this service.
Please contact us using the 'ask seller a question' link on any product page.
For future reference we commence taking Christmas orders in the Spring/ Summer months as each individual piece takes time, love and skill to produce.