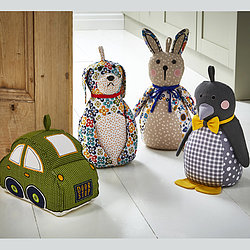 Quirky designs, fashionable textiles and affordable prices – Ulster Weavers offer a unique range of quality textiles, kitchen co-ordinates and thoughtful gifts for every budget and lifestyle. Whether you're a fan of animal prints, colourful spots or a contemporary design – Ulster Weavers will have something for you and your home.
Based in Holywood, Northern Ireland – Ulster Weavers is a family run business with over 125 years' experience in textiles with a worldwide reach.
Every product is designed in Northern Ireland and the company still relies on the knowledge of 125 years in the production of textiles. Ulster Weavers has held the royal warrant as suppliers of kitchen textiles to Queen Elizabeth II since 1995.
Today, Ulster Weavers Ltd. is a family business with a worldwide reach. Our products are sold not only in the UK and Ireland, but throughout the world.