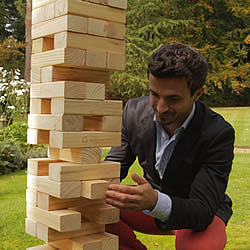 Time to get outside and have some fun.
Uber Games creates a range of fantastic, high quality garden and indoor games all made from sustainable sources. Our games are suitable for adults and children alike and will undoubtedly provide years of fun with family and friends whatever the occasion.
The outdoor range includes six different grades of Croquet Sets, to suit all requirements, alongside a number of other beautifully crafted classic and giant garden games including:
Wooden Skittles, Quoits, Giant Connect 4, Giant Chess and Giant Tumble Towers.
Uber Games also offers a range of sports sets such as 5 a side football, crazy cricket and rounders to keep the most active of kids (and adults) entertained.
Our indoor range includes a mini skittle alley, chess and backgammon sets as well as one of the worlds most popluar board games but a game that is still quite unusual in Europe; Carrom.
Many thanks for popping by and we hope you find something that takes your fancy :-)
http://www.notonthehighstreet.com/ubergames