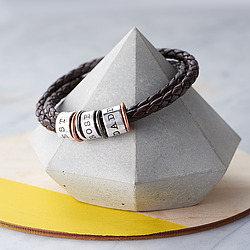 Twisted Typist brings you a fantastic collection of unique, personalised jewellery, all handmade in a jewellery studio housed in a wonderful old Victorian Fire Station, in Biggleswade, Bedfordshire!
Working with gold, copper and sterling silver, as well as other mixed metals, each item made by The Twisted Typist can be customised and personalised to suit.
We use only the finest tools to make your jewellery- our hands and eyes. We don't use lasers or machines to align or cut.
As our name suggests we are a little quirky and a little less ordinary!
With fantastic gift ideas for men and women, whether marking a special day, sharing a special message, or a personal milestone, there are some truly unique and special designs for you to choose from!