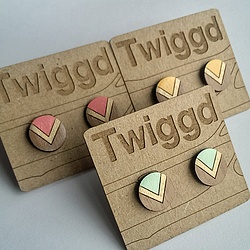 Made in Scotland. From twigs.
Hello! I'm Tara and I'm the girl behind Twiggd.
I love colourful things, illustration, accesorising and fiddly tasks. Add to this a degree in textile design, a course in fine woodworking and the power of lasers and you get.... Twiggd. Playful, colourful, hand painted jewellery.
I set Twiggd up when I graduated 6 years ago. After a recent break to become a mum I'm now very happy to be back at work and making things again!
Design inspiration comes from lots of places including- the love of simple shapes and geometry, living by the sea, Scottish culture and funny words.
All pieces are designed and made by me in Edinburgh where I live with my fiance, litte boy and two black cats who of course also have colourful laser cut accessories.