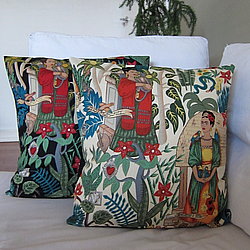 We currently make cushion covers, usually from fabric bought on our travels. Our main themes are Mexican Day of the Dead, The Mexican Artist, Frida Kahlo, Tattoos, Skulls, pin-up girls and boys. Our prints are characterised by their bright colours and intricate patterns, which are sure to brighten any interior.
Twentysevenpalms has been around since 2005. Based in Chelsea, we make all our covers locally. We aim to add to and update our range regularly.
Occasionally we will do special or 'one off' sizes if requested, or can source specific designs if possible. We have some exciting designs in the future, which will be exclusive to notonthehighstreet.com so please keep an eye out for our new products!