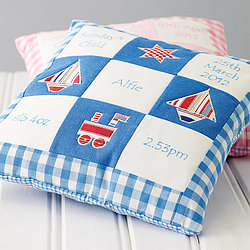 At Tuppenny House Designs our workshop is crammed full with fairies, princesses, angels, soldiers, cowboys, teddy bears and assorted animals. We use these lovely designs to create a range of gorgeous products for babies and children.
As each item is individually handmade by us in our small family business, we have the time to listen to what you want, and as a result we know that's important to you. Using fine quality cottons and linens, we can create a truly unique gift that will be treasured forever. Our handmade personalised cushions come complete with a feather pad.
We hope you enjoy giving and receiving these gifts as much as we enjoy making them!