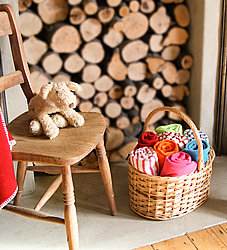 Tuppence and Crumble brand was launched in 2008 delivering a range of colourful fleece baby blankets with what has now become our signature blanket stitch finish. Since then our range has grown and now includes more innovative baby products like our star fleece wraps and Nap-Sack pram liners.
Our latest range of beautiful felted lambswool baby blankets have made a premium addition to the range and are now available in simple but classic breton stripes or a more traditional fairisle.
It is important to us that we source high quality fabrics and yarns for our products to ensure they not only look fabulous but feel soft and cosy too.
We have made it our policy to use UK manufacturers where possible, hence our range of luxurious fleece products are all made in the UK and our lovely knitted blankets are made in Scotland. The Organic Cotton is souced from India and is fairly and ethically traded.
Our logo shows the main instigators behind the name and probably our main target market! To avoid any confusion, Tuppence is a bonny baby and Crumble a wise, if not long suffering dog, who also loves his blanket.