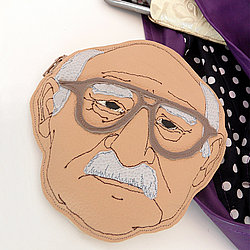 Welcome to my collection of quirky embroidered accessories and personalised homeware!
I graduated from Illustration at Kingston University in 2010, but could never quite kick that dirty sewing habit of mine. Growing up, both of my parents worked in the textile industry, so I was surrounded! My mum would come home with bin bags full of unwanted fabrics for me to play with. The time I didn't spend teaching myself to sew, was spent drawing my favourite Disney characters.
Although I pursued the drawing side of things, my love for sewing never subsided. Choosing between the two wasn't an option, so I eventually combined my two passions and my wonderful creations were born!
My product ranges from brooches to card holders to custom illustrations. Drawing is at the foundation of everything I create, but the end result is very much textile based. Designs are generally based on what I like, and I love tea and cake! My aim is to keep my work fun, fresh and contemporary. Influenced by my passion for drawing and my lifelong love for textiles, I create my work by free machine embroidering my drawings, so no two are the same. This is what makes them so unique!