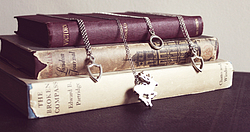 Welcome to Tuesday's Child, a jewellery brand that brings you beautifully crafted, simple pieces with a focus on detail that makes our jewellery unique. The collection takes inspiration from many places including travel, the British countryside and vintage jewellery.
Every piece shown in the collection is designed from scratch and handcrafted for you in our studio, which is situated in the North of England, using specially sourced materials from all over Great Britain.
At Tuesday's Child we use only the highest quality materials, including sterling silver and 9ct gold, to ensure your jewellery will last a lifetime.
We hope you find something you like.