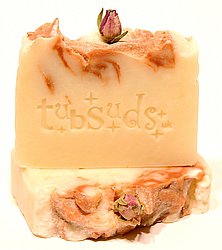 tubsuds is a family run company based in the heart of England, whose speciality is luxury 100% natural handmade products.
Explore our luxurious range of Handmade Soaps, that contain an incredible 21% Shea butter in each bar, making them one of the most luxurious on the market today. Our highly fragranced, sensual aromatherapy body massage candles, longer lasting Eco Soy Candles, sensational bath truffles, bombs, salts and much more. All of which are perfect for divine home pampering.
We choose 100% pure and natural ingredients for our products like Cocoa butter, Shea butter and premium essential oils ensuring you can always trust tubsuds quality.
Our range of products contains no artificial additives or synthetic fragrances.
Pure & simple!
Our soaps are suitable for all skin types and are particularly good for sensitive skin and conditions such as eczema, dermatitis, etc...
All of our products are vegetarian and vegan friendly, contain no genetically modified (GM) ingredients, are 100% cruelty-free and never tested on animals.