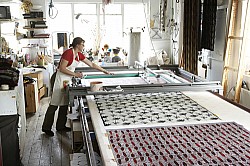 Having graduated from the Royal College of Art London Trisha launched her first hand painted scarf collection at the chelsea crafts fair and then went on to produce collections for fashion and interiors, Trisha designs and prints all her textiles herself on a flat sreen printing table in her studio in South London and makes the products up herself with the help of two wonderful machinists who work from home when times get busy.
Her work has sold successfully to stores, boutiques and galleries throughout the UK, Japan, and the USA, such as Liberty, Heals and Fenwicks in London. Nordstrom, The Guggenheim museum U.S.A and Barneys New York and Japan She also has been commissioned by private and corporate clients to create wall hangings curtain fabric and interior accessories. and Jon Snow the channel 4 news reader wears her ties.
The hallmark of Trisha's work is her passion for colour and pattern,inspired by her love of gardening and her allotment plot to architectural forms such as the guggenheim museum and now the olympic site, whether it is a favourite flower or a delicate seed head, and even a trucks oil filter found on the road while cycling, has led her to produce bold striking distinctive silk screen prints on iridescent velvets, silks, fine wools and crisp linens. Echinacea, pea pods, poppys, and of course where would my collection be without stripes and spots are all featured in this years collection.