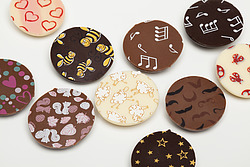 Everyone knows that chocolate makes the world go round!
Toftly Treats take things one step further. We specialise in delicious handmade chocolate buttons and lollipops in dozens of beautiful designs; an irresistible treat for all the senses.
Toftly Treats are made with high quality Belgian chocolate and handmade individually in North Yorkshire. Unique and fun, they are available in seasonal designs and are perfect for wedding favours, bespoke presents or corporate gifts.
Are your taste buds alight? Do you have a loved one who needs some (edible) tlc? A special occasion that needs extra sparkle? Or maybe you just deserve a treat for being utterly marvellous. Whatever the need, our chocolate makes everyone smile!