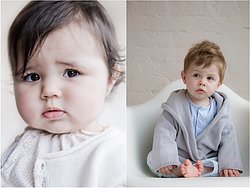 Here at Toffee Moon we design our little boutique collections in the UK around newborn principles which any new parent will relate to: precious, practical, soft and comfortable.
We want our collections to be not only beautiful and unique, but practical and really comfortable. Our collections mix traditional baby colours with more contemporary shades to achieve a modern yet timeless look. We put lots of thought into the tiny details to be sure our clothing is gentle against babies delicate skin and we only use super soft cotton jersey to allow babies to wriggle and sleep in comfort.
Each season we design our own delicate prints and themes inspired by the best of British; delicate vintage rose prints, nautical stripes and our classic cricket jumpers are some of our favourites.
Our knitwear collections are essential for layering in our changeable climate. We take traditional ideas and add little details to make them really special. Our coordinating range of pure cotton baby blankets, hats and scarves complete the look and make beautiful gifts.
We want our collections to be enjoyed by all...