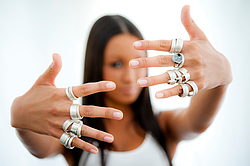 Jewellery is Tanya's passion. Always has been….it's the sparkling window displays which drew her in as a child and still do. At 13 her mother took her to buy beads and after a short demonstration by the shop staff, she started making jewellery. Tanya quickly realised that this was to be more than just a hobby and so followed her heart by going down the creative route during her education.
Tanya attended Middlesex University and obtained a BA (Hons) in Jewellery in 1993. She immediately set up her first studio in London and whilst freelancing for several jewellers, she launched her first collection in 1997.
Tanya has now created several collections, drawing from her inspirations which include machinery, trees, architecture & glamour. "My aim is to make jewellery that is beautifully designed, easy to wear and contemporary but not fashion led. I like using a variety of details and have mixed silver and gold so that they appear on the same piece. They look so beautiful together and I love the idea of a chunky silver ring being upstaged by a very delicate strip of hammered 18ct gold."
In September 2013 Tanya's work was recognised by The Hylands Estate Artist Studios and she became the Jeweller in Residence at Hyland's House near Chelmsford in Essex. "It is such a fantastic opportunity and I now have a wonderful studio set in beautiful grounds. Another inspiration!"
Is there something you would like specially made? Maybe a personalised collection for your wedding party, a big birthday, or that special anniversary. Tanya absolutely loves taking on commissions and bespoke work so please do not hesitate to get in touch with her if you have any queries.