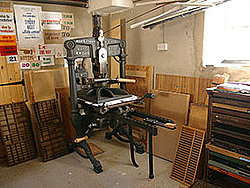 Real letterpress, not fake typographic!
With an antique, cast iron printing press, we print a wide range of art prints and commissions using vintage woodblock and letterpress type. We use traditional, sustainable inks and recycled papers for a high quality finished product. Each print is made by hand in limited runs and this means that every print is unique with its own character.
The printing method we use was invented by Johannes Gutenberg in 1440 and is still being used today by a small number of letterpress studios. Letterpress printing has undergone a fantastic revival in the US and is now gathering pace here in the UK.
Our products are inspired by the collection of vintage blocks in our studio, relics of the time when all printing was done this way. The patina on our blocks gives the print a textured look and each print is unique.
The woodblock letters are assembled in a chase, held in place using quoins. The layout is proofed and inks mixed for each run and the printing process begins. The ink is applied by hand roller to the blocks for every print before it is pressed.
All our prints are handmade, not reproduced on a laser or commercial printer.