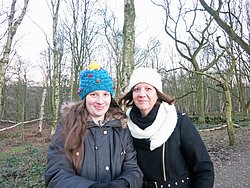 Thread Squirrel started in 2012. We are Tracey & Kathy Marshall a mother & daughter team.
We combine well in our interests, passion and skill set; Kathy with innovative product design and Tracey's lifelong sewing & embroidery skills. We work from adjoining studios in Pudsey, West Yorkshire. Tracey's the one surrounded by Bernina sewing and embroidery machines (and covered in threads) and Kathy the one with a desk full of charms and metal stamps.
Much of what we produce can be personalised. Our first products were map outlines on various fabrics incorporated into hand made cushion covers as well as pillow cases and similar useful household products.
Further products followed; anniversary canvases, kilt pin brooches and Christmas decorations.
Our products make excellent gifts for those special people in your life or to commemorate special times and places in your own life.
We hope you enjoy owning and giving them as much as we love making them.