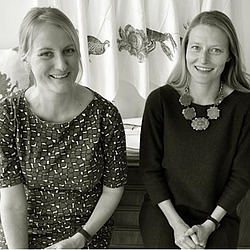 Juliet Thornback and Delia Peel met in 2004. While keeping their day jobs as a florist (Juliet) and theatre designer (Delia) they worked on their first collaboration, a series of hand printed clutch bags.
They set up a studio in 2006 at Cockpit Arts, London. A year later they established Thornback & Peel to create beautiful, intricate hand-screen printed pieces for the home.
Their imagery is playful and sometimes surreal, often using a combination of geometric pattern with 19th Century wood engravings.
Their work is inspired by a fairly eclectic mixture of Victoriana, Mrs Beeton's household management, Mr Mc Gregor's garden, 17th century microscope imagery of the natural world, Norfolk and Devon.
A proper celebration of the traditional quirkiness of British humour and design.