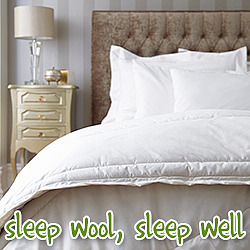 The Wool Room was born from the passion of experts who have been in the wool industry since 1888. We understand wool inside and out, and spent 12 years perfecting our range of specialist bedding. Our revolutionary range of bedding, which provides all the wonderful natural benefits of wool, can help you get up to 25% more deep regenerative sleep - and thats scientifically proven! Wool bedding helps to regulate your temperature and comfort levels throughout the night keeping you cool when it's hot and warm when it's not. We stock the largest variety of wool duvets, pillows and toppers currently available online and we also have a range of exclusive machine washable bedding. Take a look at our range of duvets, pillows and mattress toppers, we even have bedding sets which even come with a 30 day money back **Better Sleep Guarantee**
As well as luxury bedding we sell beds, mattresses, throws, blankets and baby bedding, all 100% natural. We've recently expanded our range to bring you cushions, scarves, sheepskin boots, sheepskin rugs and wool gifts. Please take a look through our selection.
Our company has it's routes in the British farming industry, so we aim to do all we can to support British Sheep Farming. We raise funds for R.A.B.I. - the charity for farmers and farming families - and regularly contribute to the community. We are also strong supporters of the Campaign for Wool, who are aiming to help wool growers get a fairer price for their fleeces.