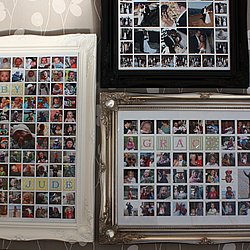 A wonderwall is a beautiful personalised montage of your favourite photos that tells a story of a special occasion or significant time in your life.
In short, we take the trapped pictures from your PC and in suitcases, then turn them into a showpiece for your home.
You give us your photos - either professional or amateur - and our small but perfectly formed design team turns them into contemporary tiled or brick style wall art.
All are available in a choice of stunning frames or on canvas should you wish. Wonderwalls come in various sizes. Great gifts, we find these the three most popular categories: the Little Wonderwall, charting your little one's early years; the Love Wonderwall, for relationships and weddings; and the Life Wonderwall, recording a life history and making a very special gift for a relative - perhaps celebrating a milestone birthday or anniversary.
The Wonderwall Print Company works to produce a design and style to fit with your home, occasion and style. Your wonderwall will be a lasting reminder of your family's happiest times.