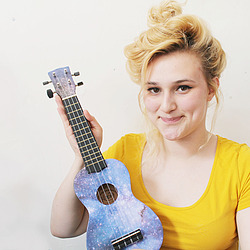 Hi! I'm Ally, the founder of the Ukulele Workshop. In late 2012 I started learning to play the Ukulele and meeting other people who did also. One thing struck me as very odd; ukulele players seemed to be a quirky bunch and yet they all seemed to be playing pretty plain and simple instruments. A quick google search yielded no super-duper patterned alternatives and so the Ukulele Workshop was born with one simple ethos- to make ukuleles as unique as the people who play them.
We work tirelessly to source the finest fabrics and quality papers to use for our designs. We like to have a pretty wide product range; from dinosaurs designs to paisley patterns, however if you can't find your dream uke in our products, contact us and begin working on your custom order! We pride ourselves on offering a completely customisable experience and offer whole design changes, simple colour alterations, different base ukulele branding, alternative strings and much more. So if you fancy something a little bit different we can probably work it out for you.
Ally Ebdon founded the Ukulele Workshop in 2013. While still a young company, the Ukulele Workshop has shipped instruments all over the world from Norway to Micronesia and continues to grow rapidly. When not designing new ukuleles, Ally is a full time student of the University of Edinburgh and a successful lifestyle blogger at Now That's Pretty.