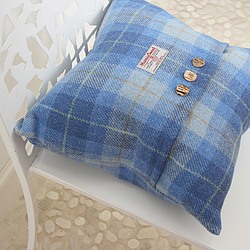 Stunning hand crafted cushions and homeware made exclusively by the Tweed Workshop for Mansefield Studios from Harris Tweed.
To meet the legally prescribed definition of Harris Tweed, tweed has to adhere to a strict specification: a tweed must have been hand-woven by the islanders at their home in the Outer Hebrides and made from pure virgin wool dyed and spun in the Outer Hebrides.
A well balanced mixture of exquisite colours in the yarn, inspired by the colours of the sea, hills, and land of the Outer Hebrides, together with the luxurious texture of the cloth, ensure that each piece will become an instant classic.
The Harris Tweed Authority's Orb Mark trademark provides detail, and certifies it's hand crafted origins.
Stag horn buttons from the Ardnamurchan peninsula on the West Coast of Scotland provide classic detail. The buttons are crafted from environmentally sensitive and ethical sources.
Mansefield Studios is proud home of The Tweed Workshop, as well as a pottery studio and craft gallery. Found in the heart of the Loch Lomond and the Trossachs National Park in stunning Argyll, the Studios overlook Loch Long and the Arrochar Alps.
Mansefield Studios promotes high quality Scottish makers and crafts people. It's all about keeping it local....