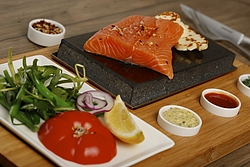 SteakStones is the world's leading hot stone cooking brand, allowing diners to recreate the sensational meal of Steak on the Stone in their own homes with a range of stylish products and accesories.
Launched in 2005, the company supplies leading restaurants all over the World and now you can enjoy this fantastic experience at home, inside or out, with any of our great products which also include exclusive glazed lava platters which will keep your precooked food exactly as served best, for longer.
For our hot stone cooking products, simply heat the stone on the hob, under the grill, in your oven or even on your barbecue, prepare your fresh, healthy ingredients and sizzle away, with every last mouthful as hot and delicious as if it were the first. There really is no better, healthier or more fun way to cook.
No other company offers a lifetime guarantee for the lava stone used in their products, which is vital for the safe enjoyment of this experience at home. Please be aware of cheap imitations.