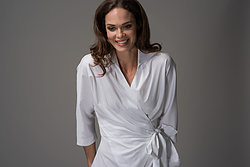 Without a doubt, a crisp white shirt is the building block of any wardrobe. Never going out of fashion, the popularity of the white shirt has soared due to its timeless ability to be worn throughout any season.It must, however, be an impeccably made and tailored marvel that sends you out looking crisp and feeling confident!
At The Shirt Company we take pride in the production of our immaculate creations, using only the best Italian fabric and great manufacturing. Success is in the styling and the colour; white is never just white. Our white is a lovely, face-brightening white, great against all skin tones.A chameleon, the perfect white shirt comes in many guises, all of which have certain things in common.
The perfect white shirt fits well. Its sleeves are long and well shaped, its top button thoughtfully positioned.The fact that it is made well and made to last goes without saying. The perfect white shirt is a classic.
No one said it had to be plain.