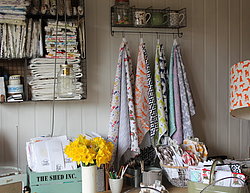 Funky designer homeware collection.
A collaboration of skills and friendship. Owner Vicky Brook commissioned her best friend Susan Schippel to create some designs reflecting her love of flowers, colour and their beloved dogs, as well as sneaking in some British patriotism with the launch coinciding with the Queen's Jubilee year. This collaboration of skills and friendship came at a time when both friends were relying on each other's support.
A Mix and Match range to sit along side other favourite labels or on its own! I have tried to utilise British manufacturing where possible. This collection was the start of an exciting new period. I believe the product range reflects a positive, bright state of mind and determination!
 Quality from the design, production and materials, through to the packaging and delivery is key to our long term success, and I am confident that you will not be disappointed.
Our offering now includes products for the pets. We use local crafts men and women where ever possible to make the best possible gift for you and yours.
Enjoy shopping and building your collection! As you keep supporting and buying, we will keep adding new products to the range. "From little sheds to colourful homes".
Vicky Brook is delighted to have been awared Achieve Magazine MUMPRENEUR AWARD OF EXCELLENCE 2016.