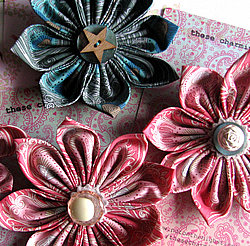 Hi, my name is Debra. I design and make homeware, fashion accessories and gifts from my workshop in Berkshire. My items are hand crafted from new, vintage and recycled fabrics, embellished with appliqué, buttons and trimmings.
My pieces include tea pot and egg cosies; ipod, phone and gadget cases; cushions; and corsages. The designs on each piece come from my own sketches.
I love vivid colours and quirky designs and draw my inspiration from all things vintage and retro. My spare time is usually spent designing, sketching, sewing or hunting down gorgeous fabrics, both new and old.
I work alongside my little mini schnauzer Molly (well..she curls up on my lap as I sew!). She'll be featuring in some of my products in the future.
I spend a lot of time putting together colours, patterns and designs to create fun, interest and contrast. Please enjoy!