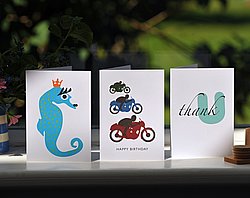 Welcome to The Sardine's Whiskers. The Sardine's Whiskers was established by Ally to create a range of greeting cards covering the majority of occasions with fresh, clean and quirky designs.
Having worked in Broadcast Design for many years, Ally decided to extend her design creativity with her unique and idiosyncratic cards.
Inspired by all that's different, an octopus that wears eight red Wellington boots, a proud snail with it's new castle to four simple words, 'I love to laugh'.
How wonderful it is to be happy and to send a little happiness to someone special!
I hope they make you smile.