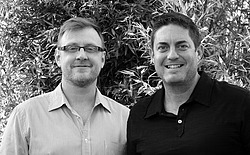 Jeff and Lee have been great friends for over 10 years where Jeff used to run The Rustic Dish, originally, as a food blog. We both shared a love for rustic cooking, and recipes, and really wanted to sell beautiful handmade rustic products that reflected on that part of our lives. We quickly agreed that olive wood is one of the worlds most beautiful woods and that was that and here we are..........after highjacking Jeff's blog name! We now produce a beautiful range of cheese and cuttings boards and kitchen accessories, all carved from one piece of sustainably sourced olive wood. We are now expanding our range into other personalised rustic giftware and continue to carefully source and promote artisinal handmade products from around the world.
All our products are designed in-house and made for us by artisans from around North Africa, India and Nepal. We source our olive wood carefully from olive farms that discard their very old trees that have come to the end of their natural fruiting life. We are both very passionate about this as it allows the olive farmers to sell, rather than throw out, their old trees which in turn allows them reinvest in new, younger, more productive trees. This injection of investment allows the farmers to continue employing their family members and that of the local community in some of the poorest regions in the world.
Personalisation, designing and engraving are all carried out, in house, at The Rustic Dish workshop by our hard working and very dedicated team. The engraving team specifically want us to point out that they look nothing like Pinocchio's Dad!? Their words not ours.
We at The Rustic Dish are also committed to providing the best possible service and high quality products to every one of our customers. If you have any questions regarding The Rustic Dish range then please feel free contact us and we will answer your query as quickly as possible.
Thanks for reading and happy shopping!
Lee & Jeff
The Rustic Dish
**Voted 2014 and 2015 Top 10 Best Personalised Gift by The Independent**
**Make Awards "Product of the Year" 2015 Finalist**
**The Evening Standard "Best Wedding Gift" 2015