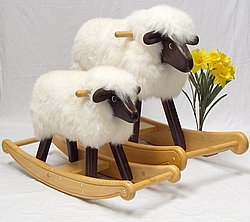 The Rocking Sheep Company is a small enterprise based on the North Wales coast, whose products have made their way worldwide.
The original design was conceived in 1990, and each sheep or lamb is created to order by an individual craftsman. With a firm commitment to both quality and individuality, we are happy to tailor our sheep to customer requirements and can provide a range of different breed styles or a rainbow of colours as desired. Whatever the style, the company maintains a strong emphasis on renewable, natural materials, all of which are locally sourced.
Our mission is to create high quality, loveable toys and furniture which are strong, safe and worthy of becoming treasured heirlooms.