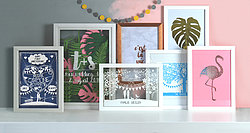 Introducing The Portland Co., a design studio in rural Leicestershire, creating unique and bespoke papercut artwork and prints.
With over 15 years' experience in art and design, we are passionate about telling stories and capturing moments through papercut art.
Every single papercut is made in our studio with great care and attention to detail, and we delight in creating something truly special for all our customers.
Our designs make wonderful gifts for family and friends, including birthdays, weddings, anniversaries, christenings, new baby arrivals, and at Christmas.
We can also offer completely bespoke pieces – get in touch if you'd like us to design something just for you.
If you're looking for thoughtful and unique presents that will be treasured for years, take a look at our wide range of papercuts and prints. We'd love to hear from you!