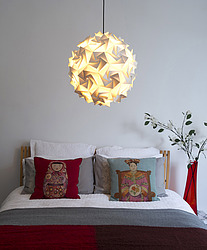 The Paper Shade Company specialises in the distribution of higher end sculptural paper shades. It is pleased to launch with the Aperture light shade, previously licenced to Habitat for a number of years.
Aperture is most recognised for its use in the EAT chain of coffee shops both in London and around the UK. The Aperture shade brings a soft ambient glow to the majority of EAT stores enabling customers to enjoy a nice leisurely coffee!
Designed by Claire Norcross (previously the in-house lighting designer at Habitat), Aperture comes in three sizes all available on an overnight delivery service. More exciting ranges to come later in the year!