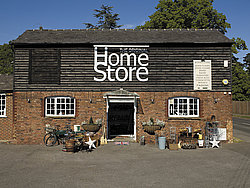 The Original Home Store was opened in 2010 in Little Bookham in Surrey by Damian and Lou Cronin who wanted to create somewhere totally different to shop.
Damian has worked in the reclamation business for many years and he and Lou wanted to open a store where they could sell the reclaimed pieces they have found and collected.Combining these with new but very traditional items they have been able to open the type of store they always dreamed about.
The Original Home Store offers a huge range of products both new and old which have been rescued and reloved, treasured and refound. Combining these with new and many contemporary pieces the Original Home Store is quite unique. Whether you are looking for homeware, kitchenware, furniture, lighting, garden pieces or giftware we have something for you.
All of the pieces we sell are hand picked by us. We love what we sell and welcome it in to our home and are sure that you will too. Whether you are looking for something for yourself or for a gift we are sure you will find what you are looking for. We hope you enjoy shopping with us.