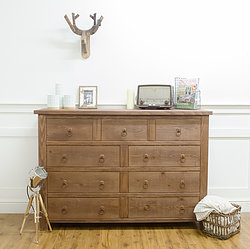 Combining good old fashioned values and service delivered in a modern and efficient manner, The Orchard has come to embody the kind of place we hope you will like to shop.
The emphasis is on vintage inspired living. A nod to the style of the past and all the practicality that came with it. Nature is also a big influence, natural materials abound, with plenty of beautiful sustainable wood - new, old and reclaimed.
Pretty and practical are watch words for all that we source, with an increasing emphasis on British design and manufacture. We champion some Great British brands, as well as nurturing our own collections of furniture made here in Leicestershire.
Search 'The Orchard' for our unique homeware and garden collection.